Oil & Gas
Oil & Gas Industry in Southeast Saskatchewan
Oil and gas is an integral part of Saskatchewan's economy, accounting for about 18% of provincial Gross Domestic Product. In the Saskatchewan south east region it is the major economic driver accounting for $553 million annually in revenue, or 38.08%, of the $1.4 billion in oil and gas revenue the province generated through royalty tax and land sales in 2009.
The Saskatchewan government maintains an Oil & Gas Information map.

Provincial Activity in Surveying and Drilling
In 2010, the industry invested over $10 billion in exploration. (2010 Energy and Resources)

Over 10,000 horizontal oil wells have been drilled to date in Saskatchewan and oil production from horizontal wells now makes up almost one-half of provincial oil production. (2010 Energy and Resources)

Approximately 27,000 oil wells were productive in 2010. (2010 Energy and Resources)


In June 2010 the Saskatchewan government introduced a new volume-based gas well incentive which establishes a maximum Crown royalty rate of 2.5% and a freehold production tax rate of 0% on the first 25 million cubic metres of natural gas produced from all horizontal gas wells drilled between June 1, 2010 and March 31, 2013.

Saskatchewan currently produces 425,000 barrels of oil per day. The province is Canada's second largest crude oil producer, making up about 17% of national production. (2010 Energy and Resources)


86% of Saskatchewan's 43 billion barrel reserve of conventional oil remains in the ground. Now, advanced techniques are also being developed to pursue non-traditional oil reserves in the northern oil sands, oil shale, and coal shale deposits.
Southeast Saskatchewan Regional Activity in Surveying & Drilling
Regionally, 497 businesses are either directly involved in the oil patch through drilling and production, or indirectly involved through consulting, supply and servicing the industry's needs. (2009 Energy and Resources)


In 2010, 1,531 horizontal wells were drilled in the south east. As of June 2011, the region was up 23% in the drilling of horizontal wells over the same point in 2010. (2011 Energy and Resources)
South East Saskatchewan Regional Activity in Production
Of the $553 million in oil and gas revenues in the Saskatchewan southeast in 2009, $478.3 million can be attributed to oil activity, $1.0 million to gas sales, and $73 million to land acquisition for gas exploration.

The number of oil producers in the region fluctuates from 85 to 120. This fluctuation is largely the result of constant mergers and acquisitions.
Employment Provincially & Regionally
In 2009 the Oil and Gas sector in Saskatchewan employed either directly or indirectly over 35,000 people.

It is estimated that in 2010 about 15,000 people were employed directly or indirectly by the Oil and Gas sector in the southeast Saskatchewan region.
An Untapped Resource
Drilling for oil in the southeast region of Saskatchewan has had an unexpected spinoff. Resevoirs of associated gas in liquid form have the potential to become a high-priced commodity that will have demand in the future for the production of plastics among other products. Though the industry is in its infancy and the technology to extract and use this resource is still being developed, it is a readily available, untapped resource in the region.
Bakken Success in Southeast Saskatchewan
Today, advances in technology have balanced the cost of drilling and production with the ability to extract more oil. It has become much more feasible to proceed with horizontal drilling as a profitable pursuit. And as the technology expands the drilling and extraction will become more profitable.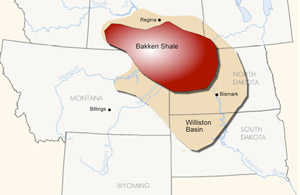 The northern tip of the Bakken Basin enters southeast Saskatchewan, providing the region with a wealth of oil resource. Bakken oil wells are yeilding high quality light crude oil, at production and royalty costs considered very competive with other western Canadian jurisdictions. The light crude is a premium product because it is easier to refine than many other forms of oil.
Horizontal drilling proceeds as though establishing a traditional well. A hole is drilled vertically to a depth of at least one mile to a point just under the deepest fresh water near the surface. The drill bit is removed, a casing is added and cement is poured into the casing to prevent contamination of the surrounding fresh water aquifer. Drilling proceeds again to a depth 500 feet above the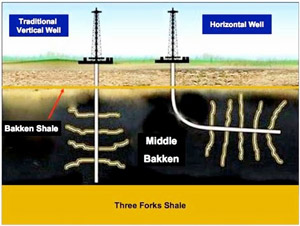 planned horizontal well, a location known as the kickoff point. At this point angled drilling begins and continues until the well hole becomes horizontal.
Fracing on the well is introduced to create cracks or fissures in the shale. Multi-stage fracing is a more recent innovation. Several additional technologies are utilized to recover oil at this depth: the use of water (hydro) pressure to force the oil to the surface, and enhanced oil recovery using pressurized CO2. An informational video explaining the process can be found on the Northern Oil & Gas, Inc. website www.northernoil.com/drilling
Support Services, Associations & Organizations